Spain: Free shipping on orders over €50 |Returns: 30 days
BIOGATEO
Its stability is key in the first steps.
In the stage of crawling and first steps, going barefoot allows the baby to generate stimuli and expand his world through his feet. Biogateo provides conditions similar to those of walking barefoot in uncontrolled environments when footwear is necessary, providing the security they need without losing stimuli thanks to its ergonomic and biomechanical design.
The baby feels more secure.
Soft stabilizer, protects without limiting ankle movement, improving stability (Patented system).
Biomechanical sole, the base of the sole is wider to provide balance and stability.
Thin sole, non-slip and dorsiflexible, to feel the ground you step on safely.
From crawling to the first steps.
Made of natural materials free of chrome and nickel.
Maximum breathability.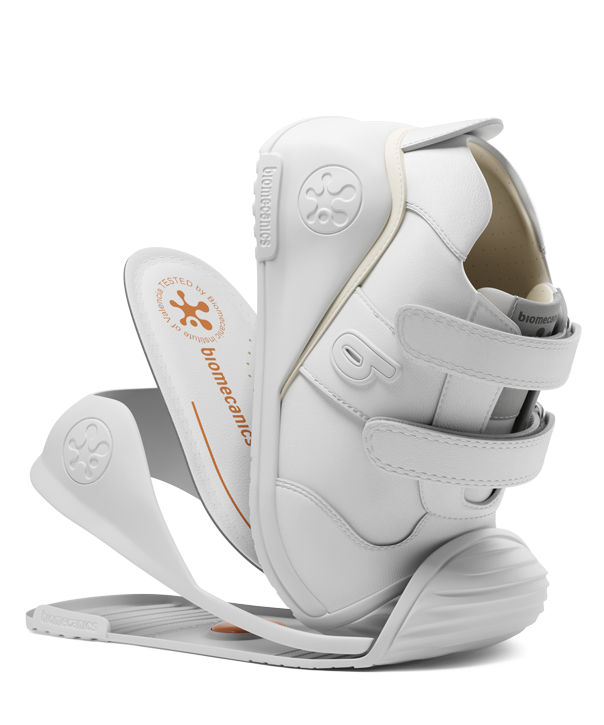 Removable antibacterial flat insole
Soft stabilizer, frees the ankle and protects the foot
Thin, non-slip and dorsiflexible sole
Braking zone
Rear shooter
Cleft in "U", frees the Achilles tendon
Thermal comfort, micro-perforated leather lining
Comfortable interior with flattened seams
Natural materials
Maximum traction
When does a child start to walk?
The median age is between
Less than 60% they do it with 1 year.
Just a 3% of the children walk alone with 9 months.
Our clients say
"As always, buying footwear for our son from this brand is the right thing to do. Because they are comfortable, beautiful, they adapt perfectly to your foot and you always have colors that go with everything. They are exactly as described. We will buy biomechanics again when they outgrow them."
Experts reviews:
"Appropriate footwear favors the correct development of the foot, in addition to providing security and confidence to the baby in its first steps. A slightly wider heel base makes it easier to balance."